Frame My TV - Blog & News
Designer Inspiration Guide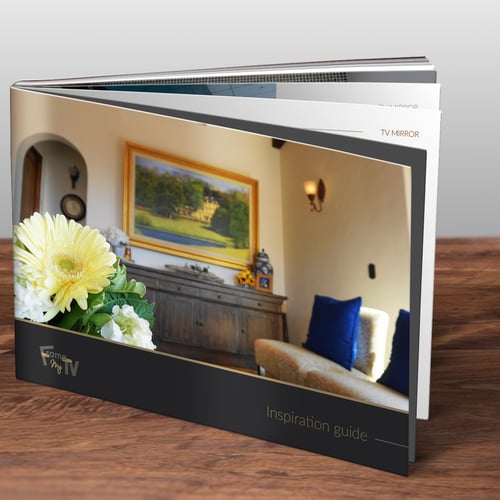 Can We Feature Your TV Frame?
Since 2006 we have worked closely with our thousands of clients around the country to help conceal their TV's and make them a part of their home decor.
This book is a collection of beautiful images and client testimonials about their experiences working us. The book will be a professionally produced coffee table book featurings roughly 100 full color pages of beautifully concealed TV Mirrors, TV Art Covers and TV Frames. Any frame in this book can be quickly configured through our Design Studio.
We would love to feature your home or your clients home!
So please submit some great photos ASAP (if you haven't already). We will send a complementary hard copy to all clients featured as a thank you for helping us along this journey 10 years in the making that started in a garage.
Images submitted by resellers will receive credit in the image caption by mention of their company name.
Grand Prize
The Best Photo Submitted will recieve a $1,000 Frame My TV Gift Certificate -OR- $500 Amazon Gift Card.

DEADLINE: Feb 10th, 2017
How to Submit Photos:
How to Increase Your Chance of Winning:
Submit multiple photos from various angles (with TV on/off, TV Art up/down, etc)
Submit photos with the entire room like you see in a magazine
Try not to have yourself in the reflection of a TV Mirror
Take the photo in the daytime for best lighting
Tidy up the space
Send the largest photo file size your phone, camera, etc will allow.
TERMS:
Prior winners of our photo contests are not eligible for the Grand Prize.
By Submitting Photos you are giving Frame My TV permission to use the photos at our descrition in future marketing materials, etc.