Home
/
Frame My TV - Blog & News
Frame My TV - Blog & News
How To Decorate Around A Flat-Screen TV
---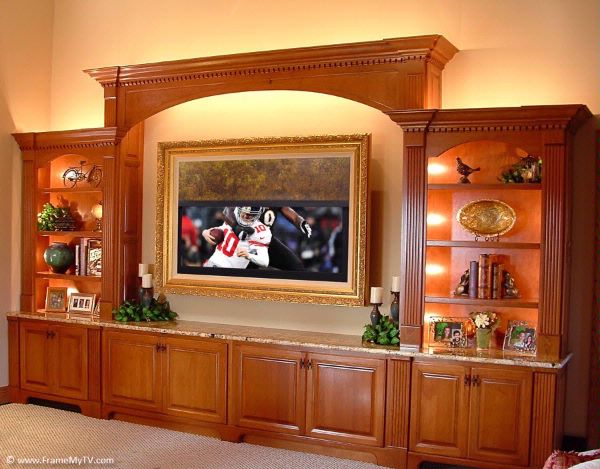 There are numerous approaches to decorating a room with a giant flat-screen TV in it. To some, the task is a difficult to one; to some creative minds, it poses an opportunity to rise to an interior decorating challenge! Indeed, large TV sets can be pleasing to the eye in many settings, and the trick is sometimes in making the TV blend in with its surroundings. But there are plenty of ways available to get the job done—here is a look at a few:

Creative Tips for Your Flat Screen TV
The color black is your friend. And we mean it! The TV tends to dominate the room, as a shiny, black box tends to stand out in a room filled with furniture and decorations. In rooms with white trim, black accents and accessories can make a TV set look right at home—maybe put a TV set over a dark fireplace, complement it with dark brown flooring, or line the furniture with black-accented pillows. A little bit of dark coloring goes a long way toward bouncing one's eye away from the television set!
Camouflage the TV by directly surrounding it with a dark color. A background wall of dark gray, navy blue, black, or brown might help ease the task of hiding a TV a great deal. This trick is especially striking in conjunction with the first tip listed above—a room with dark accents and a dark background will hide a TV as well as any room!
Make another part of the room the center of attention. An ornate mirror, piece of artwork, frame, or furniture in a room can draw focus away from a television set and toward something more aesthetically pleasing. In fact, if the first three options listed above appeal to you, Frame My TV is your trusted source for making your TV a center of attention in this way—by decorating your TV with a tv mirror, work of motorized art, or beautiful custom tv frame!
Fill in the space surrounding the TV. Bookshelves are especially useful in this regard—a wall full of books can easily render a not-in-use TV mere background! If you don't have built-in or readily available shelving, then filling your wall with art and photography will do the trick as well.
Ground the TV. Placing the TV on top of a furniture piece or over a visual center of attention will help draw attention away from it. A TV mounted on a wall and floating in midair will tend to be a center of attention, but if on top of a cabinet or even placed over a fireplace, a TV will blend in better.