Home
/
Frame My TV - Blog & News
Frame My TV - Blog & News
The Man Cave Revisited; Things You'll Need for Your Modern Bonus Room
---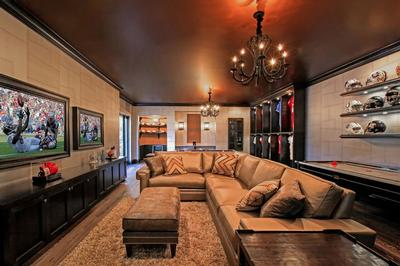 New phrases and concepts are constantly being developed over the course of human history. In recent decades, one of the more striking new buzzwords in home design has been "man cave." The name evokes a prehistoric refuge, and though the man cave may indeed serve that role today, modern man caves are far from prehistoric, often featuring high-end technology and elaborate design. We all know that a man cave typically has a TV set and comfy seating accommodations, but the reader may wonder what other features such a room normally has. Wonder no more, here's the list:

The Ingredients to Your
Man Cave
The TV set. More often than not, the TV is the single most indispensable item inside a man cave (or, again, any kind of bonus room). The fancier, higher-def, and better-decorated the television set, the more comforting the cave will be!
The recliner. The perfect spot to kick back while watching the game or a movie, the reclining chair is a must for any man cave. In fact, any bonus room really ought to have one, but in a den designed for beer, games, and sports, a recliner is a must.
Bar and fridge. Because you can't truly relax if you need to walk all the way up the stairs or across the hall to get another cold beverage!
Pool table. Now we start getting into matters of taste—the previous items were indispensable, but the choice of games is up to the cave's owner. Pool is the clear front-runner for the ultimate man cave gaming fixture, as it's a social game whose physical setup lends itself well to experimental design ideas.
Dart board. This is another great gaming fixture, which can help mix the confined intimacy of a bonus room in your house with the night-out-with-the-guys atmosphere of your favorite bar.
Poker table. Highly useful during parties (and not just for the guys), the poker table is one of the best gaming fixtures a man cave can have. Great for any social occasion!
Sports memorabilia. But of course! If you own a particularly sacred relic of a favorite team, it should be framed on the wall. A signed jersey of your Pro Bowl quarterback, a foul ball you caught at a World Series game, you name it—it's the ultimate decoration for a man cave.

Key Takeaway
Of course, personal touches make all the difference, and any great cave will have a few creative fixings not listed here. But a bonus room starts and ends with its TV—and
Frame My TV
can make one fit for the finest living room, restaurant, bar, or man cave!