Frame My TV - Blog & News
Outdoor TV Design Ideas
---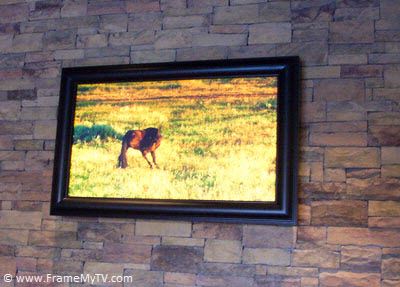 Years ago, when receiving a decent TV picture sometimes meant carrying the bulky console box out to the front porch or the back yard and pointing the metal antennas this way and that until everything came into focus, the idea of watching a favorite program under the stars seemed at once novel and necessary.
With the growing popularity of outdoor spaces as part of the home environment, the addition of a television set to an outdoor space has become almost mandatory. Along with that, so has the necessity of housing the electronics in ways that both protect against the weather and allow for the screen to be concealed during those times when you and your guests would rather enjoy one another's company in the great outdoors.

How to Include a TV in Your Outdoor Room
If you're considering the placement of an outdoor fireplace, which is also high on the list of required outdoor room elements, then think about making a space over the mantle to place a flat-screen TV – along with a frame, provided by Frame My TV, that's bound to lend the combination an element of class and simplicity.
Feeling the need to have a dedicated TV viewing area? Then why not build a covered, arbor-like space that can safely secure your flat screen in a recessed nook? Nothing says "Outdoor Man Cave" more than a structure that's solely dedicated to your tastefully framed and mounted TV.
If going for the countrified look of, say, a French chateau, you could opt to recess your flat screen in a wall of barn board, set off by an equally rustic frame, and hide the whole assembly behind a pair of floor-to-ceiling French doors.


Disguise, Don't Disregard
For an equally disguised look, mirror the shape of the fireplace opening in the wall above the actual fireplace, mount the TV against a solid wooden surrounding and then add a custom door that swings open on one side. When closed the arrangement will look like two fireplaces, with only one planned for current use. When open, the symmetry should allow for a harmonious viewing experience.
Finally, for a more modern look, nothing beats a flush-mounted set of doors into a wall, which, when opened, reveal a finely framed TV screen just waiting to be fired up for the all-important show, event or game.