Home
/
Frame My TV - Blog & News
Frame My TV - Blog & News
Suggestions for Putting a TV in Your Kitchen.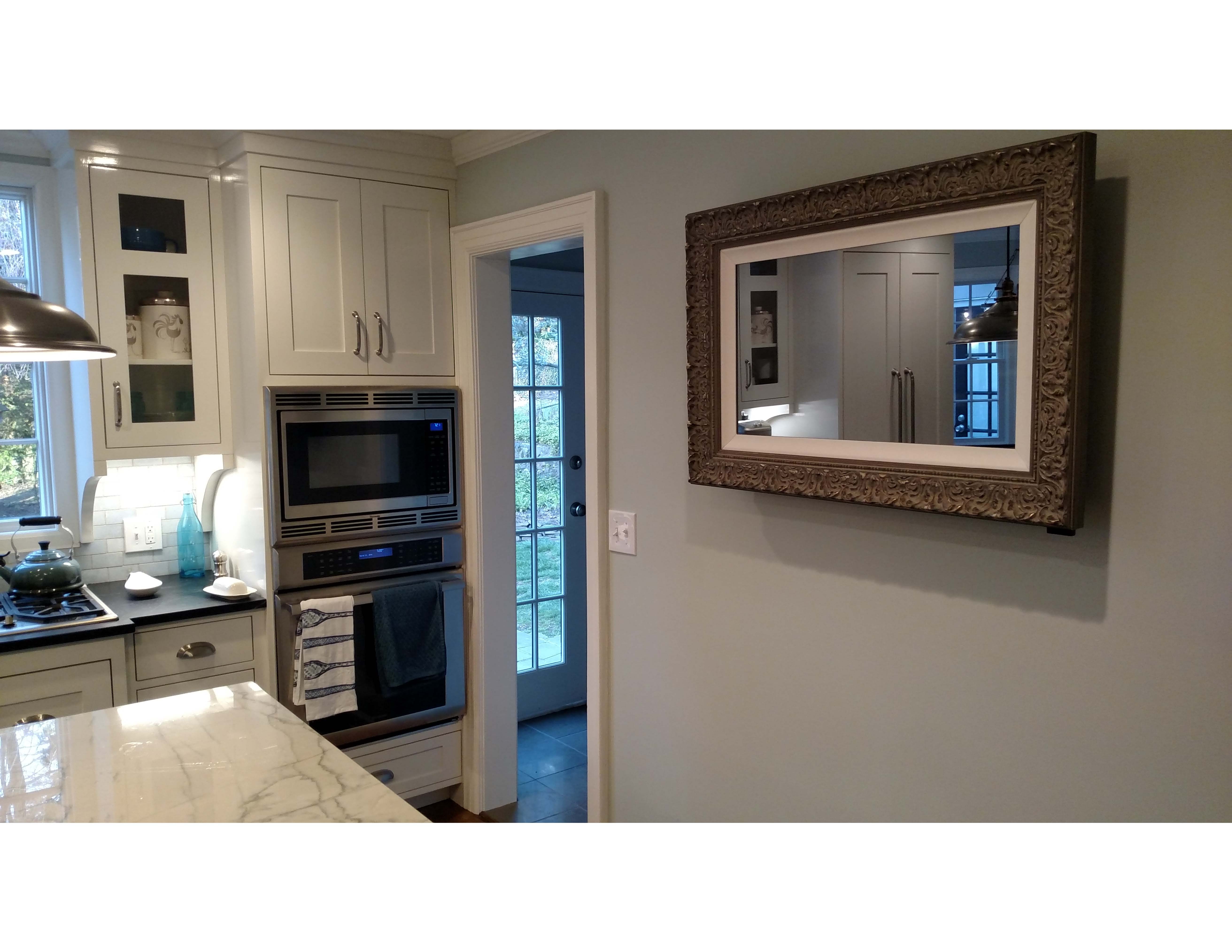 Do you have a TV in your kitchen? Is it sitting awkwardly on a shelf, taking attention away from the decorations around it? Do you have an older TV box in the kitchen, taking up unnecessary space? Or maybe you're just contemplating putting a TV in your kitchen. With a custom frame from FrameMyTV.com, you can solve all of your aesthetic concerns. But first, you have to decide where you're going to put your TV.
Glued to the Tube
Rebekah Zaveloff of Houzz published a list entitled "Glued to the Tube: 14 Ways to Put a TV in the Kitchen." Here are some of her suggestions that were particularly helpful:
Camouflage the TV so it appears to be an appliance - For example, if you have a microwave stacked on top of an oven, placing the TV above the two appliances makes it practically invisible. This allows it to fit in with the rest of the décor.
Place it high- TVs hung high in the kitchen aren't always ideal but sometimes, there's no other place to put them. This suggestion is most ideal for standing viewers or people on the other side of the room.
Placing it at chef's eye level- If you like to watch the Food Network while trying out new recipes or you just like to watch your favorite show while you cook, this could be the ideal placement for you.
Putting it in the message center- If you already have electronics, like a stereo and a phone charger in one place, adding the TV to this area would make sense. It fits with the other items so you don't have to put so much effort into camouflaging it.
Mount it against the wall- When you mount a TV on the wall, it resembles art, especially if you have a great frame around it!
Put it on a family room wall- Some people have a larger, open kitchen space that allows them to see into the family room. If there's no room to put your TV in the actual kitchen without intruding on appliance space or ruining the décor, you could consider mounting it on a wall in the family room. In addition to serving as a traditional family room TV, it also doubles as entertainment for you while you're in the kitchen.
For more ideas, take a look at Zaveloff's article.


The Ultimate Kitchen Upgrade
Once you've figured out the ideal placement for your kitchen TV, you'll need a frame to complete the renovation. When it comes to finding custom TV frames, you can't go wrong with FrameMyTV.com. We offer hundreds of custom frame styles designed to add the finishing touch to any room. Some of our options include standard moldings, metro frames, premium hardwood frames, and much more!
If you're looking to upgrade your kitchen with a new TV, make sure to go with FrameMyTV.com for the most reliable, high quality custom TV frames.