Home
/
Frame My TV - Blog & News
Frame My TV - Blog & News
The TV Set in the Modern World; A Brief History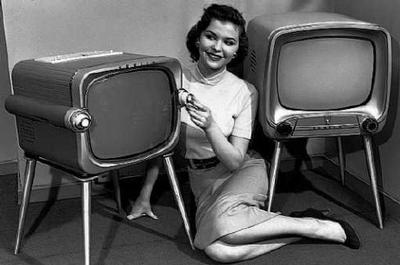 Over the past century, the television set has become a staple of the American household. In that same time, the TV has evolved steadily, mirroring the state of each era's culture and technology. In a previous blog post, we covered what may be called the prehistoric days of television history—the times of three-inch screens, the infancy of TV channels, and more! Now, let's take a look at how television sets progressed from a trendy entertainment gadget to a mainstay in homes everywhere by the 1980s.


The Evolution of the TV Set
In 1952, television sets entered their Golden Age—Sears Roebuck and Co. offered their TV set, the Silverstone, for a cool $269.95. Furthermore, a key marketing metric, the Nielsen rating, came into being, and became an invaluable tool for measuring how many viewers were tuning into popular programs. At this time, I Love Lucy was taking America by storm, and TV sets went into high demand!
From 1950 to 1960, TV sets boomed in popularity, as the number of American households that owned one increased from an estimated 6 million to nearly 60 million over the course of the decade! Television also notched a major milestone when, for the first time, a U.S. presidential debate, between Richard Nixon and John F. Kennedy, was televised and watched by 70 million viewers. This debate is notorious for having illustrated the power of television over radio—polls showed that a majority of radio listeners thought that Nixon, who looked somewhat unkempt at the debate, won the debate with his well-prepared arguments, but that a majority of TV viewers thought that Kennedy, who had carefully applied makeup for television, had won!
On January 1st, 1969, a whopping 720 million viewers worldwide watched Neil Armstrong become the first man to walk on the moon—on TV!
In 1971, for the first time, color television sets, a relatively new option on the market, outsold their black-and-white counterparts. Black and white TVs would fade out in popularity in the coming two decades.
By January 1, 1978, an astonishing 98% of U.S. households owned at least one television set. Wow!
In 1981, the advent of cable television massively expanded the options for both aspiring TV executives and viewers. Major cable channels CNN and MTV launch, spelling the beginning of a new era for television!
Key Takeaway
There is always more to learn about the television set's place in our history—but there are easy solutions to find your TV set's place in your living room or lobby! See what Frame My TV can do for you today.